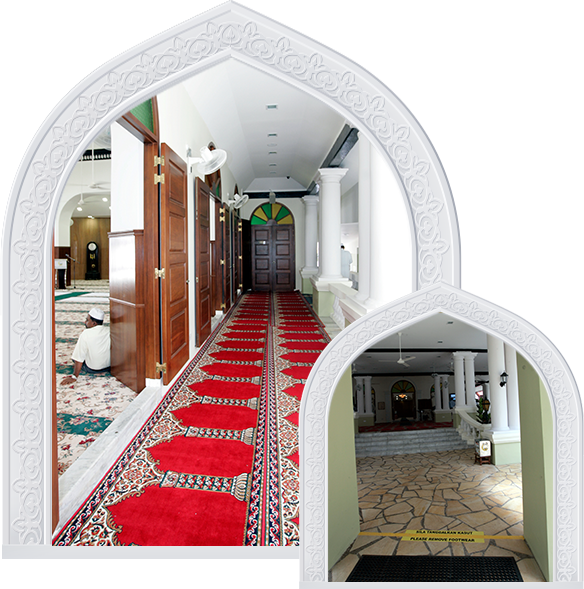 About Us
Masjid Omar
Kampong Melaka
This is the oldest mosque and place of worship in Singapore. It was established in 1820 in an area known as Kampong Melaka (Malay for "Melaka Village"), as many traders and fishermen from Malacca had settled here soon after Singapore became a British Port. The mosque was built by and named after Syed Omar Bin Ali Aljunied, an Arab merchant from Hadhramaut (a valley on eastern Yemen) and a landowner whose family contributed greatly to Singapore's early development by building mosques, bequeathed a plot of land in Victoria Street for Muslim burials including building of community wells and bridges.
The mosque was a meeting point for local Malays and Jawi Peranakans, as well as early Muslim immigrants from the Middle East, India and countries around the region. The original timber mosque was rebuilt by Syed Omar's son in 1855 as brick wall with a pyramidal tiled roof. Despite its development, the mosque has retained its distinctive features like the main pillars, columns and its chengal wood structures preserved from its 1855 struct.
As the first wakaf – a trust for pious, religious and charitable purposes –  it was only in 1981 that it was reconstructed to house an administration building and a minaret. In 2001 it was declared a historic site by the National Heritage Board. In 2009, the mosque underwent extensive renovations to replace the roof and added new classrooms and a ladies' prayer room.
The mosque has withstood the test of time even with many skyscrapers towering over it.  It is professionally managed by a team of volunteers appointed by the Islamic Religious Council of Singapore (MUIS).